How Long do Dental Implants Last? | Clarksburg Dental Center
Posted on February 17th, 2023
Research shows that nearly 200 million adults in the United States are missing at least one tooth, and around 40 m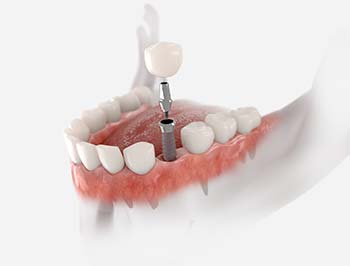 illion of those have no natural teeth left. In some cases, patients are missing teeth due to genetics- the teeth never erupted. In other cases, missing teeth is due to poor dental hygiene and lifestyle choices or lack of access to dental care. No matter what the cause, there are options for replacing missing teeth.
One of the most popular tooth restoration solutions at Clarksburg Dental Center in Germantown, MD is dental implants. Dental implants are inserted into the jawbone, where they act as artificial tooth roots. This means that this solution looks, feels, and functions more like natural teeth than other options.
In this article, we'll explain more about the benefits of dental implants, as well as how long you can expect them to last and what factors contribute to or detract from the life expectancy of this solution.
Dental Implants Benefits
Dental implants are a permanent solution for missing teeth. There are several benefits associated with this tooth restoration procedure, including:
Prevents jawbone deterioration
Chances are, you've heard "if you don't use it, you'll lose it". This can be applied to your jawbone as well. Your jawbone relies on your tooth roots for stimulation to keep it healthy. When you start losing teeth, your jawbone will begin to deteriorate. However, dental implants are inserted into the jawbone, acting as artificial tooth roots, replacing that missing stimulation.
Can be customized to match natural teeth
Natural teeth come in a variety of shapes and sizes. Therefore, tooth replacement solutions should be customizable. Dental implants can be fabricated to fit perfectly in with your natural teeth so that no one but you and your dentist will know the difference.
Restores natural bite force
Other tooth restoration solutions require you to be careful what you eat and how you chew because certain foods could damage or break them. However, dental implants are inserted into the jawbone, acting as tooth roots, which allows you to bite and chew with basically the same force as with your natural teeth.
Prevents changes in facial shape
As mentioned, when you lose teeth, your jawbone begins to deteriorate, which can cause changes in your facial shape. This makes you look much older than you are. However, dental implants prevent the jawbone from deteriorating, which supports your facial shape and keeps you looking youthful for many years.
Allows you to speak clearly
Missing teeth can impact the way you pronounce certain words because the way air passes through your mouth is changed. In addition, bulky restorations such as dentures and bridges can have an effect on your speech. However, dental implants are inserted into the jawbone, so they feel and function just like your natural teeth, allowing you to speak clearly and naturally.
Will not decay
While you do need to practice proper oral hygiene to keep bacteria from building up around the implant and causing infections, you do not have to worry about cavities. The materials that implants are made of will not decay.
Easy to care for and maintain
Dentures and bridges require special care and maintenance. You need special flossers, cleaning tablets, adhesives, cups, and more to clean and maintain them.
Dental implants do not require any additional maintenance. Simply brush and floss like you normally would. Visit the dentist every 6 months for an exam and cleaning so that we can monitor for any problems and catch them before they escalate.
Won't slip/slide around
Dentures sit on top of the gum and often slip and slide around in the mouth when speaking, eating, smiling, or laughing. This causes many denture patients to avoid socializing because they are embarrassed. Dental implants are secured in place in the jawbone, which means you don't have to worry about slippage.
Supports neighboring teeth
When you are missing teeth, the neighboring teeth will shift to fill in the gap, which leads to misalignment. This can cause a variety of issues. Dental implants fill in the gap, which prevents this shift and allows you to maintain straight, even teeth.
Life Expectancy of Dental Implants
Dental implants are designed to be a permanent tooth restoration solution because the jawbone fuses with the screw through osseointegration. This allows the implant itself to serve as an artificial tooth root, creating a solid foundation for an artificial tooth.
However, it is important to note that while the implant is permanent, the crown may need to be replaced. Research shows that approximately 50% to 80% of dental crowns must be replaced after about 15 to 20 years.
Research does indicate that there is no difference between the life expectancy of traditional dental implants and that of mini dental implants.
What factors impact life expectancy?
While dental implants are safe and effective for most patients, in some cases, implants can fail. Implant failure typically occurs when something interferes with healing or osseointegration, including:
Improper care/maintenance
When bacteria accumulates, it turns into tartar, which ultimately turns into plaque. This can cause gum disease, which can cause damage to your gums and jawbone. Therefore, it's important to note that oral hygiene is important- whether you have all of your natural teeth or you have dental implants. Proper oral hygiene includes:
Brushing twice daily
Flossing daily
Limiting consumption of sugary foods
Visiting the dentist every 6 months for a checkup and cleaning
Inadequate bone density
There are two types of dental implants: endosteal and subperiosteal. Endosteal implants are inserted directly into the jawbone and therefore require sufficient jawbone density. If there is not enough jawbone, it may fail.
During the consultation appointment, x-rays will be taken to determine the quality of the jawbone. If the jawbone is inadequate, we will offer bone grafting or sinus lifting to allow the placement of the implants. Another option is subperiosteal implants, which are implanted above the jawbone.
Smoking
Patients who smoke have a higher risk of implant failure than those that do not. In fact, research shows that smokers have an 11% failure rate while non-smokers have a 5% failure rate.
This is because smoking has a negative impact on blood flow to the area, which affects healing. In addition, smoking increases your risk of gum disease.
Bruxism
Bruxism, or teeth grinding, can cause the implant screw to fracture or loosen or can crack the porcelain crown. This is because the grinding motion can cause the implant to shift, which can prevent successful osseointegration.
Medical conditions
There are certain medical conditions that are associated with a higher risk of implant failure, including:
Weak immune system
Diabetes
Bleeding disorders
High blood pressure
Heart disease
Osteoporosis
Age
While dental implants are safe for all adults, it is important to note that older adults may have a higher risk of implant failure. This is because they often heal slower than younger patients and typically have underlying medical conditions.
Medications/Treatments
There are certain medications and/or treatments that can impact the life expectancy of dental implants:
Radiation
Immunosuppressive medications
Blood thinners
Inexperienced surgeon
Finally, it's important to note that the experience of the surgeon can have a significant impact on the life expectancy of your implants. The dentists at Clarksburg Dental Center have the experience and expertise to successfully place your dental implants.
How to Care for and Maintain Dental Implants
One of the best ways to ensure that your implants do not fail is with proper care and maintenance. The good news is, dental implants do not require any special attention like some of the other tooth restoration solutions. Simply care for them as you would your natural teeth:
Brush twice daily with a soft bristled toothbrush and non-abrasive toothpaste
Floss daily
Use an alcohol-free mouthwash
Visit the dentist every 6 months for an exam and cleaning
Conclusion
Dental implants are designed to be a permanent solution for missing teeth. This solution has many benefits over other tooth restoration options- primarily the fact that they look, feel, and function more like natural teeth. Also, with proper care and maintenance, dental implants will last a lifetime. Contact us at Clarksburg Dental Care.
Dental Implant FAQs
The team at Clarksburg Dental Care knows that you have questions when it comes to tooth restoration options- especially dental implants. We will be happy to discuss any of your questions and concerns. Some of the most common questions we hear about dental implants include the following:
Are dental implants permanent?
Yes, dental implants are designed to be a permanent solution. They are inserted into the jawbone. Over the months following implantation, the process of osseointegration will occur. This is the process by which the heals around and fuses with the implant.
Are dental implants safe?
Yes, dental implants are a safe solution for most patients. However, there are a few things that could disqualify you from being an ideal candidate, including:
Smoking
Gum disease
Diabetes
Autoimmune disease or compromised immune system
Certain allergies
Osteoporosis
Taking medications that impact calcium levels in the body
How much do dental implants cost?
The average cost of dental implants ranges from $1,500 to $6,000 for a single tooth and may cost $40,000+ for full mouth restoration. Unfortunately, many dental insurance providers consider this procedure cosmetic and will not cover it. Our friendly office staff will work with your provider to determine coverage. We believe that everyone should have access to dental care and therefore offer financing options to help.
How long is recovery after getting dental implants?
The entire process takes several months to a year or more. Recovery following the implant surgery may take up to 6 months because osseointegration is taking place.
What is the difference between a dental implant and a bridge?
A dental implant is designed to replace a single tooth or act as a support for several missing teeth. A bridge, on the other hand, sits on top of the gum, connected to the two natural teeth on either side of the gap. In some cases, dental implants act as the support for a dental bridge.

About Clarksburg Dental Center
Compassionate Team.
Wonderful Experience.
Affordable Care.