Welcome!
It's about the little things
We want you to have a 5-star experience, every time you visit Clarksburg Dental Center. From our office décor to how we communicate with our patients, every small thing we do is to help make your time with us the best it can be.
Anxious about going to the dentist? Join the club! There is no shame in having some anxiety or dental phobia, but we can work with you to help change your perception of the dentist. We can't wait for you to experience the Clarksburg Dental Center difference!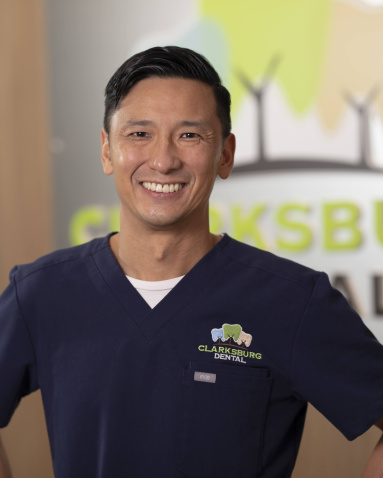 Edmund Liu, DDS
Hello, I am Dr. Edmund Liu.
I was born in Hong Kong and moved to the U.S. when I was a teenager. I went to high school in Baltimore, and finished my undergraduate and dental degrees at the University of Maryland in 2002.
In 2004, I married my lovely wife, Shuk-Kei and we are blessed to have two beautiful children: Grace and Jake. Since we really like the Clarksburg community, we decided to move to Clarksburg in 2011. If you see me and my family around the neighborhood, definitely say Hi!
Throughout my career, I had the privilege to join a couple of dental mission trips, where I was able to serve the people who were in need in other parts of the world. The experiences were extremely rewarding and I certainly hope that I will have the opportunity to do it again in the future.
I have a great passion for soccer. I started playing since I was 5 years old and still play regularly. Recently, I have been playing in a league at the Germantown soccerplex and I love it!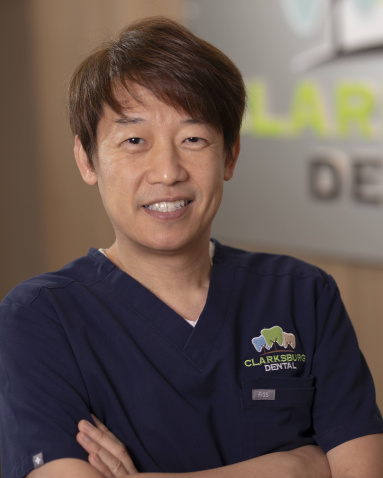 Chung Lin, DDS
I am from Taiwan, but I moved to Argentina at the age of 9, where I spent most of my childhood. My passion for dentistry started while I was attending The University of MD at College Park working part time as a dental assistant. I met a team of amazing dentists who inspired me to become the dentist, who I am today. My family and friends would describe me as funny, patient, meticulous and organized. I want my patients to feel that I am treating them the same way, I would treat my family and friends.
The satisfaction of delivering beautiful and healthy smiles that improves people's everyday life is definitely rewarding. To ensure that my patients receive the most comprehensive and technologically advanced dental care, I am constantly up to date by taking continuing education courses throughout the year.
I enjoy traveling and exploring new places around the world with my family and friends. We are always looking for new restaurants to try and don't mind traveling far for it. I also enjoy spending time with my wife and playing video games with my kids.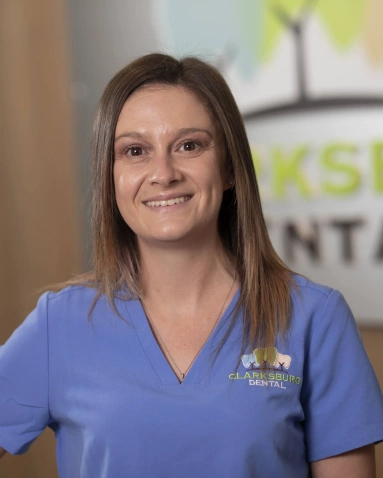 Alicia - Dental Assistant
I chose to pursue a career in dental because a friend of mine was in a certification course for dental assisting and was really loving it. I realized it was interesting and definitely a way for me to help people. I gave it a try and very unexpectedly fell in love with teeth and the mouth. So dental assisting was a win win for me, I am helping people and it is interesting!
The most favorite part of my job is when patients have what I would call an "ah ha" moment. When the doctor or myself has finished explaining something and you call tell the patient as learning something. it is a good feeling to know that the doctors and our entire team take education so seriously! In my spare time I enjoy outdoor activities like hiking, swimming, and going to the beach. My family and music are my other passions as well!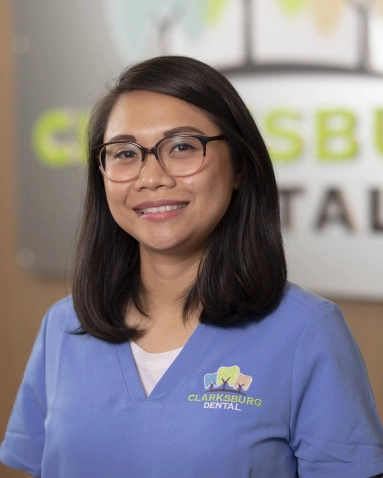 Jarah - Dental Assistant
I choose to pursue a career in the dental industry because I wanted to have a job where I can apply/make the best use of the education I've got as a nursing student back in the Phils. Although I didn't get the chance to finish it when I came to the states, when I got the opportunity to learn dentistry (with the help of both you and Dr. Lin) I grew to enjoy it and thought I can stay on this job for as long as circumstances allow. There's more flexibility in this job as far as working hours, and I definitely want to learn more about taking care of my teeth, which in turn, I know that will help me to help other people too… I love when I get to see the relief on people's faces when their teeth get restored or they get a new smile. To me, that's always satisfying and rewarding to see. I want every patient to leave the office happy and satisfied with the dental work they have had. I enjoy nature tripping, cooking/baking, bargain hunting, learning how to play an instrument, and doing volunteer work for church.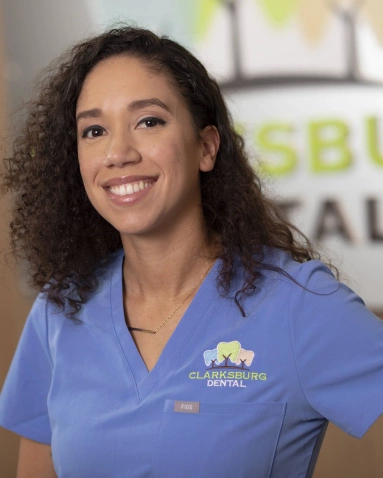 Cierra - Dental Wellness Coordinator
I have always been interested in working in a field where I am able to give back and help in any way. Growing up myself I didn't realize the importance of dentistry and now that I do I am able to spread my knowledge and help patients understand the importance as well.
My favorite thing about my job is being able to educate patients on oral health as well as creating amazing relationships with everyone.
Outside of work I enjoy spending time with my fiancé and our daughter. We like to make trips to the outlets or have our family over for Sunday dinner.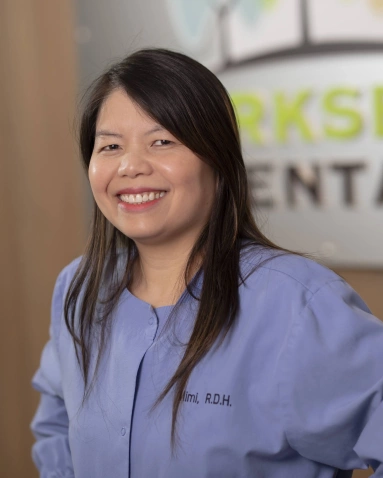 Mimi - Dental Hygienist
Our patients are my favorite part of my job. They come to us because they know we provide the best care. I love getting to know them and their families. When my patients first walk through the door, I have no idea what they have encountered in their lifetime. I don't judge them by their past, but instead focus on attaining the optimum oral health that everyone deserves. I can change a patient's entire concept of what dentistry is through knowledge and understanding.
Outside the office, I spend my free time with my husband, our son, and our daughters. I love to cook and bake together with my girls. I enjoy ballroom dancing and kickboxing. I also enjoy volunteering for my children's school and spending time outdoors with our children, especially my boy who is the source of my energy.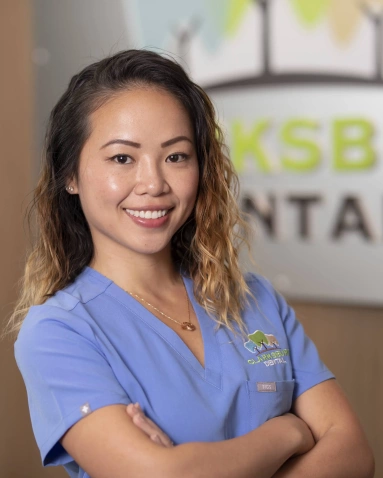 Mei - Dental Hygienist
I am passionate about my career as a Registered Dental Hygienist. I enjoy educating, helping and treating clients to achieve their beautiful smiles and, more importantly, their healthier smiles. I graduated at the top of my class with honors with a Bachelor of Science in Dental Hygiene from West Virginia University School of Dentistry. I am knowledgeable in all aspects of our dental office. I am bilingual; I speak English and Chinese.
I love all of our wonderful clients and enjoy working closely with them to make sure they receive the best possible care. I also look forward to meeting new patients and providing them with the same high level of service.
One of my strongest motivations for being a dental hygienist is that every day I know I'm making a positive impact on the world one smile at a time.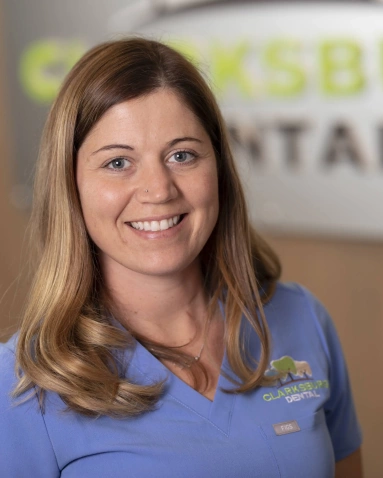 Stephanie - Dental Hygienist
I choose to pursue a career in the dental field as a dental assistant to get my feet wet. On my journey I realized that I was pretty passionate about people and wanted to do something more to help them, so I became a dental hygienist.
An ideal experience a patient would experience is being greeted almost always on time and with a friendly welcome. Sometimes I even pull out the "imaginary red Carpet" because our patients are the stars! Once you get back into my "condo" my first goal is to get the patient comfortable and make the patient feel right at home. It's a judgement free zone, and everything is done as comfortably and gently as possible. This is a safe space for them to feel heard.
Outside of work I enjoy Adventures big and small with my family and close friends. I like to do some light cooking, weight lifting and running.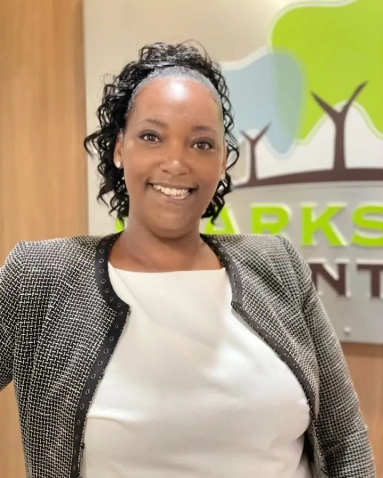 Danyell - Office Administrator
Helping others pursue and obtain their needs and goals has always been a passion of mine. With a background in Office Administration and Life Insurance, I've had the pleasure of providing that experience for clients. Although new to the dental industry, I am eager to learn, grow, and build on the knowledge I've gained thus far. It does help that we have some of the best staff, doctors, and patients! Collectively, everyone is making this journey a great one. I love seeing the beautiful smiles that walk in and out of our office. In my free time, I enjoy spending quality time with my daughter, a good movie, and getting together with family and friends.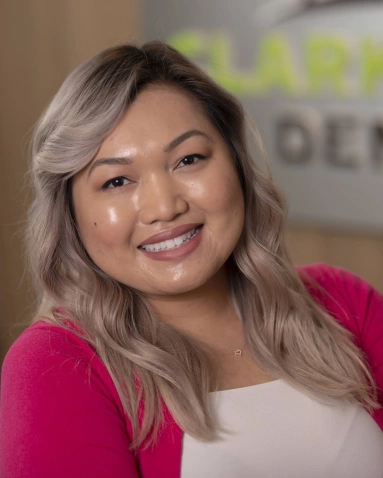 Jonamaine - Patient Care Coordinator
I've always been fascinated with the human anatomy and I knew healthcare is the path I would want to pursue career-wise until reality strikes. I cannot deal with blood and all the craziness that comes with it, that is when I started to look into the different facets of healthcare and there it was in dentistry.
I love seeing those beautiful smiles on my patients' faces. Satisfied patients mean an excellent job on my end. Meeting all our patient's needs in a timely manner is what an ideal patient experience looks like for me. I love to spend time with my family and friends. Also, good food with good company always sounds great!
Feel like the dentistry you need is out of reach because you don't have dental insurance?
Take advantage of the
Clarksburg Dental Center Membership Plan
Here at Clarksburg Dental Center, we know your family's health and happiness is your top priority—because it's ours, too! We believe dental care should be accessible and affordable to everyone, but if you don't have insurance, obtaining dental care can be a real challenge and source of stress. That's why we are excited to offer an in-house Membership Plan!
Membership Plan Benefits
No monthly premiums
No claim forms to fill out
No deductibles
No enrollment forms
No denial of payment for prior treatment
No annual benefit maximums
No preauthorization required
Financing
Compassionate Finance®
Compassionate Finance makes quality dental care affordable and accessible to everyone, regardless of insurance coverage. Personalized payment plans provide flexible terms, fixed interest rates, and allow patients to pick the plan that works best for them. The approval process is quick and easy and every patient can qualify with just an active bank account.

We're in it for good®
Easy Approval | Affordable Payments | No Hidden Fees