Invisalign Cost: Factors influencing it!
Posted on March 6th, 2023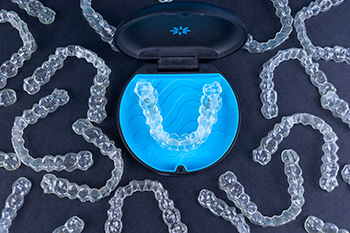 Malocclusion, or misaligned teeth, is common. In fact, most people have at least a very mild case. Some people are perfectly fine with their malocclusion and it never causes any major issues, so they just live with it. Others find it impossible to live with theirs and choose to seek treatment.
For many years, the only option was traditional metal braces. These were often unsightly and uncomfortable. In the late 1990s, Invisalign clear aligners were introduced to the market. This is a system of clear aligners designed to gradually shift teeth into their appropriate position.
The cost of Invisalign is comparable to the cost of traditional braces, ranging from $1,200 to $8,000. In this article, we'll explain more about what you need to know about the cost of Invisalign clear aligners at Clarksburg Dental Center in Germantown, MD.
Factors Impacting the Cost of Invisalign Treatment
There are several factors that impact the cost of Invisalign treatment, including:
Complexity/severity of malocclusion
Invisalign clear aligners can be used to treat a variety of malocclusions. This is because treatment can be modified along the way to facilitate more drastic/complex movements.
Therefore, a more acute condition may end up costing more in the long run due to the modifications required.
Experience/expertise of the dentist
Invisalign puts its providers on a scale consisting of 8 tiers from Bronze to Diamond II.
Each completed treatment is worth a certain amount of points. For example, a comprehensive package is worth 100 points. Providers need 20,000 points to reach Diamond II status.
More experienced providers typically charge more while inexperienced providers may lower their fees to attract patients.
Aftercare retainers
Teeth tend to shift back to their original position if left alone. You will need to wear a retainer to keep this from happening. At first, you will need to wear it all day just like your aligners. Eventually, you will be able to wear it only while sleeping. Retainers typically cost a few hundred dollars, depending on the provider.
Refinements
Most of the time, standard treatment will provide you with the results you expect. In some cases, you may hit a glitch with your treatment and require refinements, which may increase the cost of your treatment.
Location of clinic
The cost of living is higher in some areas. Therefore, treatment may cost more in these areas. If you want to try to reduce your cost, consider choosing a dentist that is located in a more rural area than one that is in a big city.
Dental Insurance
Some dental plans will cover treatment with Invisalign, while others will not. Our office staff will be happy to work with your provider to determine coverage.
Affordable Alternatives to Invisalign
While the cost of Invisalign is comparable to other treatment options, many patients believe that it is out of their budget. Below are some of the alternatives to Invisalign treatment along with their costs.
Traditional Metal Braces
Traditional metal braces are designed to treat a variety of malocclusions. This treatment consists of metal brackets attached to teeth with an archwire running between them. On average, traditional metal braces cost $3,000 to $8,0000, depending on the type and severity of the malocclusion.
Clear Braces
Clear, or ceramic braces, are similar to traditional braces. However, they are less visible because the brackets and wires are similar to the patient's natural tooth color. This is the primary reason they are so popular. Clear braces range from $4,000 to $8,000.
Lingual Braces
Lingual braces are ideal for patients who want to discreetly straighten their teeth. The brackets are placed on the back of the teeth instead of the front. They work like traditional braces in that they put pressure on the teeth to shift them into their appropriate position. The cost of lingual braces ranges from $5,000 to $13,000.
Are You Ready to Resolve Your Malocclusion?
Since Invisalign was introduced to the market in the late 1990s, it has become a popular treatment for mild to moderate malocclusions. The cost of Invisalign is comparable to that of other treatment options and depends on several factors including:
Type and severity of the malocclusion
Experience/expertise of the dentist
Aftercare retainers
Refinements
Location of clinic
While the cost of Invisalign is comparable to other solutions, if your dental insurance doesn't cover treatment, there are a few more affordable options, including:
Traditional metal braces
Clear braces
Lingual braces
Even a very mild malocclusion can cause complications. Therefore, it's a good idea to schedule a consultation with a professional. The team at Clarksburg Dental Center has the experience and expertise to resolve your malocclusion.
Invisalign FAQs
At Clarksburg Dental Center, we use Invisalign clear aligners to treat a variety of mild to moderate malocclusions. In fact, this is one of the most popular treatments. Still, we understand that you may have questions. We are happy to discuss these with you at any time. Below are answers to some of the most frequently asked questions.
How long does Invisalign take?
Most cases of mild to moderate malocclusion take 12 to 18 months. Patients with very mild cases may see full results within 6 months. However, patients with more severe malocclusions may need up to 24 months for full results- and may also require attachments to hold the aligners in place.
How does Invisalign work?
Invisalign clear aligners are designed to fit snugly against the teeth. This allows them to put firm, even pressure on all of the teeth, gradually shifting them into their appropriate position within the jaw.
Are there any alternatives to Invisalign?
Yes, there are alternatives to Invisalign: traditional braces, clear braces, and lingual braces.
Is Invisalign covered by insurance?
Some dental insurance plans will cover treatment with Invisalign while others will not because it is considered cosmetic. Our office staff will work with your provider to determine coverage. If you do not have coverage or your coverage is minimal, we do offer financing options that we will be happy to go over with you.
Are there any side effects of Invisalign treatment?
Some patients report minor discomfort when first starting Invisalign treatment and when switching to a new set of aligners. This typically resolves quickly.

About Clarksburg Dental Center
Compassionate Team.
Wonderful Experience.
Affordable Care.