How Does Invisalign Work? | Clarksburg Dental Center
Posted on February 1st, 2023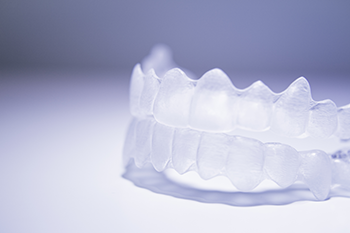 Research shows that more than 90% of the population has some level of malocclusion, most of which don't require treatment. However, in some patients, malocclusion can cause a variety of oral and overall health problems.
For example, malocclusion can make it difficult to clean between teeth which increases your risk of gum disease. Malocclusion can also impact your self-esteem because you may feel embarrassed by your smile if you have crooked or gapped teeth.
The good news is, there are options to treat your malocclusion. The dental team at Clarksburg Dental Center in Germantown is proud to offer Invisalign clear aligners. This treatment was introduced to the market in the late 1990s as an alternative to traditional metal braces.
Invisalign Procedure
The procedure for getting Invisalign clear aligners starts with your initial evaluation. At this time, we will examine your mouth, take x-rays, and discuss your needs and expectations for treatment. Dr. Edmund Liu and Dr. Chung Lin will use this information to create your treatment plan for resolving your malocclusion.
If it is determined that Invisalign clear aligners are appropriate for you, we will take a digital impression of your mouth to send to the lab. This impression will also be used to create a 3D digital model of how we expect your treatment to progress.
If you have indications of gum disease or require extractions to make space for the teeth to shift, those will be scheduled while we wait for your aligners to be sent back to the office.
The impression and other information will be sent to the lab and they will fabricate your aligners. When we receive them back in the office, we will schedule your appointment to have them fitted. We place your first set to ensure they fit as expected and, when you leave, you will take the rest of your aligners with you.
The aligners are made to fit snugly against your teeth, placing even pressure on them to shift them into their appropriate position within the mouth. You may experience some minor discomfort when you first begin treatment and when you switch to a new set of aligners. However, this usually only lasts for a few days and is easily treated with OTC pain relievers.
Depending on your treatment plan, you will switch to a new set of aligners every 1 to 3 weeks. You will need to come in approximately every 2 to 3 sets of aligners so that we can check your progress. If treatment is going as expected, you will continue doing what you've been doing.
However, if treatment is not progressing as expected, we may recommend adding attachments to your treatment plan.
Invisalign Attachments
Invisalign attachments are small, tooth-colored buttons that are placed on your teeth to give the aligners something to grip. These are primarily only used for more severe cases of malocclusion, such as rotated teeth.
When you are wearing your aligners, most people won't notice them. However, if you do not wear your aligners, they are slightly visible- even though they are tooth-colored. Also, you'll need to pay attention when you are cleaning your teeth to make sure that you get all of the food and bacteria from around the attachments.
Invisalign Retainer
At the end of your treatment, you will be given a retainer. This is to keep your teeth in their new position. At first, you will need to wear it like your aligners- for 20 to 22 hours a day. Over time, we will gradually reduce the time you are required to wear it until you are only wearing it at night.
Why is Invisalign the Best Option for Teeth Straightening?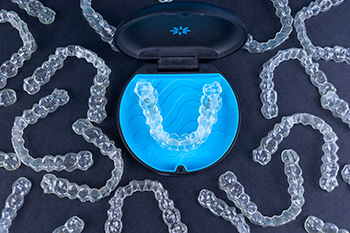 Invisalign clear aligners offer many benefits over traditional braces, which is why this is the best option for teeth straightening. For example,
Invisalign makes it easier to eat. When you have traditional braces, you have to modify your diet. You must give up foods that are hard, tough, chewy/sticky, etc because those foods can damage your brackets and wires. Since Invisalign clear aligners are removable, you can eat whatever you like- as long as you clean your teeth thoroughly before putting your aligners back in.
Invisalign is more comfortable. Traditional braces have brackets and wires that can cause discomfort and may cut your lips and cheeks. Invisalign clear aligners are made of smooth plastic. You may have some minor discomfort when treatment begins or when you switch to a new set of aligners because of the pressure on the teeth.
Invisalign takes less time. On average, traditional braces take 12 to 24 months, possibly up to 36 for more severe cases. However, Invisalign takes an average of 12 to 18 months, with mild cases resolving in as little as 6 months. More severe cases may need up to 24 months.
Invisalign is almost invisible. While you can get tooth-colored components for your traditional braces, they can still be seen. Invisalign clear aligners, on the other hand, are transparent. Therefore, most people won't even notice them- even at close range.
How Long Does Invisalign Take?
For most cases of malocclusion, Invisalign treatment takes about 12 to 18 months. On the other hand, patients with mild cases may see results within the first 6 months, while more severe cases may take up to 24 months.
It is important to note that the length of your treatment time depends heavily on your compliance with wearing the aligners. If you do not wear them as instructed (20 to 22 hours a day) and change them out every 1 to 3 weeks, they will not be effective.
This is why our dentists often recommend against Invisalign treatment for very young patients, as they do not have the maturity to be responsible enough to do this.
Invisalign Cost
For very mild cases of malocclusion, Invisalign treatment starts at $1,200. This includes 5 sets of aligners. From there, the cost goes up to $8,000 for unlimited aligners. If you require additional procedures such as extractions or gum disease treatment, those will be a separate charge.
Many dental insurance providers will cover a portion of the treatment. Our friendly office staff will take your insurance information and contact your provider to determine your coverage. From there, we will provide you with a quote on your treatment and then explain our options for financing to help you afford your treatment.
Interested in Invisalign Treatment for Your Malocclusion?
Many of our patients at Clarksburg Dental Center choose Invisalign over traditional braces to treat their malocclusion. If you believe this might be the appropriate treatment for you, schedule your consultation today.
We are located on Crystal Rock Drive in Germantown. Our office hours are Monday through Thursday 7:00 AM to 7:00 PM. Our extended hours allow us to accommodate our patients who are unable to take off work.
Invisalign FAQs
Invisalign clear aligners are the treatment of choice among our patients at Clarksburg Dental Center in Germantown. Still, we understand that you may have questions. We will be glad to sit with you and discuss your questions and concerns. Here are some of the most common questions we hear from our patients:
What are the benefits of Invisalign?
Invisalign offers several benefits over traditional braces:
Shorter treatment time
More comfortable
No diet modifications required
Easier to keep teeth clean
Virtually invisible
Is Invisalign cheaper than braces?
Invisalign costs about the same as braces, maybe a little more, depending on the type and severity of your malocclusion and your treatment time. Your insurance provider may cover a portion of your treatment. Our office staff will work with you to determine coverage and will explain our financing options to you at your consultation appointment.
What type and severity of malocclusion can Invisalign treat?
Invisalign is effective for treating mild to severe cases of malocclusion, including overbite, underbite, crossbite, open bite, crooked teeth, and gapped teeth. That being said, in order to effectively treat severe cases, attachments may be used to give the aligners something to grip. Also, it's important to note that aligners must be worn for 20 to 22 hours a day for m

About Clarksburg Dental Center
Compassionate Team.
Wonderful Experience.
Affordable Care.