Laser Gum Surgery- LANAP: Effectiveness in Periodontal Diseases
Posted on November 8th, 2022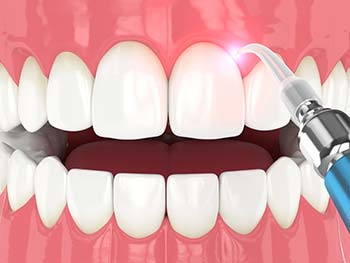 Periodontal disease is a dental condition resulting from infection and inflammation of the gums and bone surrounding/supporting the teeth. In its early stages, it is known as gingivitis. However, when left untreated, it advances to periodontitis- which can lead to a variety of complications including tooth loss. Periodontal disease is primarily seen in adult patients.
According to a recent CDC report, approximately 43% of adults over the age of 30 have some form of periodontal disease. This increases with age- approximately 70% of adults over the age of 65 have periodontal disease.
Unfortunately, may of these patients do not seek treatment because they are concerned about going through traditional gum surgery and a painful recovery. However, at Clarksburg Dental, we offer a less painful option: LANAP.
What is LANAP?
LANAP, or Laser-Assisted-New-Attachment-Procedure, is a fairly new, laser treatment option for periodontal disease. LANAP is different from traditional gum surgery in that it is used to regenerate instead of resection the gum tissue. LANAP can target the abscess and kill the bacteria that cause gum disease.
During the procedure, one of our highly trained dentists will use the laser to remove infected tissue from the periodontal pocket. The healthy teeth, bone, and gum tissue is left intact. The primary difference between traditional gum surgery and LANAP is that laser surgery is less invasive. A laser is used in lieu of a scalpel, which means there are no incisions required.
LANAP for Gum Surgery
Traditional gum surgery has been around for many years and is typically the go-to when it comes to treating periodontal disease. LANAP has been around for almost three decades. It is FDA-approved and is gaining popularity. Some research indicates that laser surgery is more effective, while other research still supports traditional gum surgery as being the most effective option.
At Clarksburg Dental, we strive to stay on top of the latest in dental technology and tend to lean more toward LANAP to treat our patients with periodontal disease. Our protocol is quite simple.
We use a laser with seven pulse durations that interact with the gum tissue in various targeted ways. The laser removes damaged/diseased tissue without impacting healthy tissue. This allows you to heal your gums without losing additional gum tissue or teeth.
The laser is very tiny, but powerful- with enough energy to effectively destroy the bacteria that cause periodontal disease. The procedure can typically be done within a few hours.
You will be given instructions following your LANAP surgery, which typically includes:
Take pain medication as prescribed/needed
Do not brush your teeth for a week or floss for a month
You may be put on a liquid diet for a few days
Be careful when chewing
Benefits of LANAP Surgery
The LANAP procedure seems fairly simple and straightforward. Plus, there are many benefits offered by LANAP over traditional gum surgery, which is why it is increasing in popularity.
Does not require scalpels or stitches
One of the primary reasons that people avoid seeking treatment for their periodontal disease is the idea of the dentist using a scalpel to cut open their gums and then using stitches to hold the gums in place. However, LANAP does not require scalpels or stitches.
Preserves gum tissue
When left untreated, gum disease can advance, ultimately causing receding gums. At Clarksburg Dental, we don't want to add to that by removing more gum tissue than we need to. LANAP allows us to target and remove the damaged gum tissue with a tiny, powerful laser beam, leaving behind healthy tissue.
Removes all bacteria
One of the biggest challenges to treating gum disease is making sure that all of the bacteria has been removed. If not, gum disease will come back. However, with LANAP, the laser kills the harmful bacteria in the periodontal pocket, allowing your gums to heal.
Promotes regrowth of gums
There is little to no chance that your gums will grow back following traditional gum surgery without a gum graft. However, this is not an issue with LANAP. When your gum disease is treated with this option, your gums are likely to grow back. Even you can't see it, your body will be restoring the bone and the periodontal ligaments that attach the tooth to the bone.
More comfortable
Since a laser is used instead of a scalpel, LANAP is a much more comfortable approach to treating gum disease. The laser targets and removes all of the diseased tissue, leaving behind only healthy tissue. On the other hand, traditional gum surgery requires the use of a scalpel to cut away the tissue. This means that not enough or too much gum tissue may be removed.
Less bleeding
One of the major reasons that traditional gum surgery is unpopular is the bleeding. After all, no one wants to undergo a treatment that will be painful and potentially cause a lot of bleeding. With LANAP, bleeding is reduced in two ways:
First, the diseased tissue is targeted. This means that there is less damage to the healthy gum tissue and blood vessels. Second, the laser causes a blood clot to develop at the site, which stops the bleeding.
Reduced recovery time
LANAP sets up the ideal conditions for healing. In addition to binding the gums to the tooth, the blood clot also encourages the body to build new, healthy tissue. This shortens recovery time so that you will be healed in less time than with traditional gum surgery.
How Much is LANAP?
The average cost of full-mouth LANAP surgery ranges between $4,000 to $15,000- which is comparable to the cost of traditional gum surgery. However, most dental insurance plans do include coverage LANAP. Our friendly office staff will work with your insurance provider to determine what exactly is covered under your plan. If you do not have dental insurance or you need help paying for your treatment, we do offer financing options.
Who is a Good Candidate for LANAP?
LANAP is a safe, viable option for most patients with advanced gum disease. Even patients who are pregnant or have diabetes or other health factors may take advantage of this treatment option.
If you have symptoms of periodontal disease, including pain while eating/brushing, red/swollen gums, or receding gums, you may want to consider LANAP. The only way to know for sure is to schedule a consultation with the team at Clarksburg Dental. However, some of the general criteria we use are:
Your teeth are loose due to receding gums
You have periodontal pockets that are 5 millimeters or more
You've been thinking about periodontal surgery
If it is determined that you are a good candidate for LANAP surgery, you are going to need to commit to improving your oral hygiene habits to ensure that the treatment lasts.
Schedule Your Consultation Today
If you have been diagnosed with periodontal disease and believe that you might be a candidate for LANAP, schedule your consultation with the team at Clarksburg Dental today. We are located on Crystal Rock Drive in Germantown, Maryland. Our office hours are Monday through Thursday 7:00 AM to 7:00 PM. This allows our patients who are unable to take off work to come in either before or after for their dental needs.

About Clarksburg Dental Center
Compassionate Team.
Wonderful Experience.
Affordable Care.