Invisalign® in Germantown MD
At Clarksburg Dental, one of the most common dental problems we encounter is malocclusion, also known as "bad bite". If you have malocclusion, your upper and lower teeth do not align when your mouth is closed. We typically treat this with braces or other orthodontic treatments, such as Invisalign. For patients with more serious cases of malocclusion, surgery may be required.
There are 3 different classes of malocclusions:
Class I: most common malocclusion- molars align, but anterior teeth are crowded
Class II: upper teeth overlap lower teeth and jaw
Class III: lower jaw pushed forward and lower teeth overlap upper teeth and jaw
Within these 3 classes, there are 7 different types of malocclusions:
Overbite
Underbite
Crossbite
Open bite
Overjet
Crowded teeth
Gapped teeth
Many of these can be treated with Invisalign clear aligners.
Invisalign clear aligners were introduced to the market in 1998 by Align Technologies. It is an alternative to traditional metal braces. This system allows patients to correct their malocclusions discreetly. The aligners are made of a medical-grade, BPA- and phthalate-free polyurethane material known as SmartTrack.
This tech took 8 years to develop, but it has improved the comfort of these aligners as well as other benefits. If you have a malocclusion, schedule your consultation today with Dr. Edmund Liu or Dr. Chung Lin at Clarksburg Dental right away.
Who Should Use Invisalign Clear Aligners?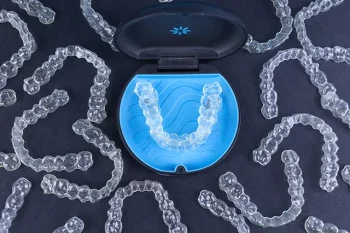 Invisalign clear aligners are an alternative to traditional metal braces when it comes to treating several types of malocclusions, such as:
Crooked Teeth
One of the most common reasons for using Invisalign clear aligners is for teeth straightening. There are several reasons for crooked teeth, including poor myofunctional habits or not enough space for the teeth to fit. Patients who have crooked teeth struggle to practice dental hygiene, such as brushing and flossing. This results in plaque and tartar forming on your teeth. While Invisalign can be used to fix this dental issue, it will only fix mild to moderate cases. Patients with severely crooked teeth will require other orthodontic treatments for teeth straightening.
Overbite
An overbite is a condition in which your upper teeth overlap your lower teeth. It is a fairly common condition and is usually mild. In its advanced form, it is referred to as a deep bite. Invisalign can fix an overbite.
Underbite
An underbite is when the lower teeth overlap the upper teeth. This typically occurs because the bottom jaw is too far forward. Patients with an underbite struggle with eating and speaking because it can cause jaw pain. Invisalign can be used to treat mild to moderate forms of underbite. Patients who have a significant underbite may require surgery to resolve the issue.
Crossbite
A crossbite is where the upper teeth hold back the lower teeth. This condition can cause bone loss, gum tissue damage, chipped teeth, and more. Invisalign can fix mild to moderate crossbites. However, patients with a more severe crossbite may require a different type of orthodontic treatment.
Jaw Alignment
Jaw alignment issues occur when the jawbone is not positioned in the proper place. It may be too far forward, too far backward, or off-center. Invisalign can be used to reposition the jaw, bringing it into proper alignment. However, it's important to note, if the jaw is positioned too far back, you may need to have surgery before using Invisalign clear aligners.
Invisalign vs Braces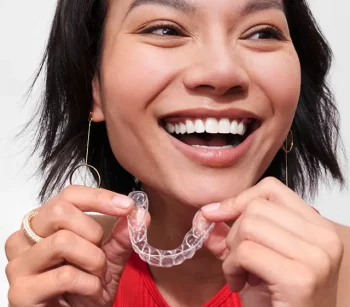 Invisalign and traditional braces are both used to fix alignment issues with teeth- but that is where their similarities end. There are some major differences between the two when it comes to the following:
Price
The cost of orthodontic treatment varies and depends on several factors. On average, traditional metal braces cost between $3,000 and $7,000. The average cost of Invisalign is comparable, costing between $3,000 and $5,000. This depends on the complexity of your dental issues and the duration of your treatment.
Some dental insurance plans may cover a portion of orthodontic treatment. Our friendly office staff at Clarksburg Dental will work with your insurance provider to determine coverage.
We also offer financing through Compassionate Financing. This allows all patients to access quality dental care. The process is quick and easy and everyone with an active bank account qualifies.
Aesthetics
Metal braces are small brackets attached to a wire and fitted to your teeth with rubber bands. The brackets are made of plaster, ceramic, metal, or other material. They may be clear, tooth-colored, silver, or any other color you choose. Lingual braces are attached to the back of your teeth, so they are more discreet.
Most of our adult patients prefer Invisalign clear aligners because they are made from transparent plastic and fit right against your teeth, so they are much less noticeable.
Comfort
According to research, especially in the early stages of treatment, patients with traditional metal braces experience more pain and discomfort than those who use Invisalign. The clear aligners will take some time to get used to. Many patients have increased salivation and often speak with a lisp for the first few days.
Metal braces are also known to scrape and push against the inside of your cheek and lips, while Invisalign feels much softer and smoother.
Effectiveness
The Food and Drug Administration, or FDA, has approved both traditional metal braces and Invisalign clear aligners for treating malocclusions.
Invisalign is usually used for mild to moderate cases, while metal braces are usually preferred for more complex cases including severe crowding, rotated teeth, and large gaps between teeth.
Most patients wear Invisalign for 12 to 18 months. Some patients see full results in only 6 months. On the other hand, traditional metal braces typically take 1 to 2 years to work.
The length of treatment varies from one patient to another, so be sure to discuss your situation with the dental team at Clarksburg Dental to find out what you can expect.
Eating
When you have metal braces, you have food restrictions. You must avoid foods that may stick to or damage your brackets. This includes popcorn, candy/gum, pears, apples, nuts, and carrots.
Invisalign aligners are removable, and you are encouraged to remove them when you are eating and drinking. However, you must remember to brush/floss teeth, as well as rinse aligners before putting them back in to prevent tooth decay.
Care/Cleaning
If you want to prevent tooth decay, brush your teeth after every meal/snack and floss every morning and evening. Use an interdental brush to get into all of the crevices, especially if you have traditional braces.
You will want to use an interdental brush to get into all of the crevices.
According to research, patients who use Invisalign experience less tooth decay and cavities, as well as have fewer problems with their gums than those who choose traditional braces. Make sure to wash your aligners with Invisalign's cleaning solution after every meal to avoid bacteria and calcium buildup.
Procedure
Both of these orthodontic treatments begin in the same manner: x-rays and a thorough dental exam.
For patients who are getting traditional metal braces, the brackets will be secured to your teeth with bonding adhesive and a wire threaded through them. The wire and brackets will be held in place with rubber bands. Traditional braces require more follow-up visits for tightening and adjusting. Once the braces are removed, you'll need to wear a retainer for 1 to 3 years to prevent your teeth from moving back into their original position.
For patients who are getting Invisalign clear aligners, in addition to the x-rays and dental exam, a mold will be made of your teeth to create your custom-fit trays. Once the trays are created, you will visit the office to have the first one put in to ensure proper fit. After that, you'll switch to a new aligner every 1 to 3 weeks as your teeth gradually move.
Invisalign clear aligners must be worn for 20 to 22 hours a day for best results. If you often forget to put them back in, they will not work.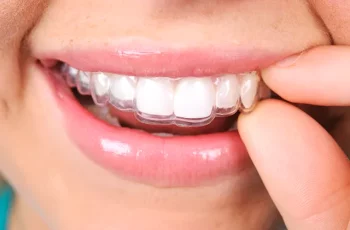 Invisalign Cost
There are several factors involved in determining the cost of Invisalign treatment. The length of treatment and the complexity of the patient's malocclusion are major factors.
At Clarksburg Dental, we offer four levels of Invisalign treatment:
Invisalign Express
Invisalign Lite
Invisalign Moderate
Invisalign Comprehensive
We recommend Invisalign Express for mild cases. For up to 5 aligners, the cost ranges between $1,200 and $1,800. For 7 aligners, the cost ranges from $1,500 to $2,000.
Both Invisalign Lite and Invisalign Moderate are recommended for moderate cases of malocclusion. Invisalign lite is for our mild to moderate patients and offers up to 14 aligners for $3,000 to $4,500. Invisalign Moderate is for moderate patients and offers up to 20 aligners for $3,500 to $5,000.
Finally, Invisalign Comprehensive is for our patients who need extra alignment. This level of treatment offers unlimited aligners and costs between $4,500 and $8,000.
Invisalign for Teens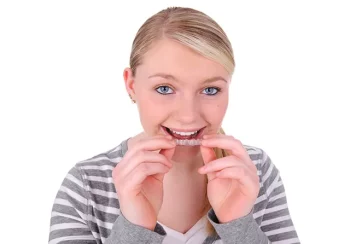 For patients under the age of 18, we offer Invisalign for Teens. The major difference between this and standard Invisalign treatment is a series of blue dots. Parents who are concerned about their teen's compliance with wearing the aligners can look at the blue dots. These are made to fade over time, if they are being worn as prescribed.
While this isn't a perfect solution, it does help. If your teen has been wearing a set of aligners for some time and the blue dots are still bright, they're not wearing them as they should. This is also a great way to avoid switching to a new set before it's time.
Benefits of Invisalign for Teens
Invisalign aligners place gentle pressure on the teeth, shifting them into alignment. Each set is worn for a few weeks before changing to a new set. By the end of treatment, patients are left with straight teeth. Some of the benefits of Invisalign for Teens are:
Easier to brush/floss
Improved self-confidence
Less irritation
Fewer emergency dental visits
Drawbacks of Invisalign for Teens
When making a decision like this, the team at Clarksburg Dental believes that you should also be aware of the drawbacks. Some of the drawbacks of Invisalign for Teens includes:
Mixed results
Requires responsibility/compliance
Easily lost
Insurance may not cover cost
Schedule Your Consultation with Clarksburg Dentistry Today
If you have a malocclusion and believe that Invisalign may be an appropriate treatment for you, contact Clarksburg Dental today to schedule your consultation. We are located in Germantown, Maryland on Crystal Rock Drive. Our hours are 7:00 AM to 7:00 PM Monday through Thursday. Dr. Edmund Liu and Dr. Chung Lin are looking forward to helping you improve your smile with Invisalign. Don't forget about our other dental services as well!
Invisalign FAQ's
At Clarksburg Dental, we often have questions that come up about Invisalign and other orthodontic treatments. Some of the most common Invisalign questions we get are:

How does Invisalign work?
The first step in Invisalign treatment is a consultation. During this visit, we will evaluate your smile and create a custom, digital treatment plan that shows the step-by-step transformation of your smile. At this time, we will take digital scans of your teeth and x-rays of your jaw. We will also make mold of your teeth so that the lab can create your custom clear aligners.
Once you start wearing the aligners, they should be worn all day and night for 6 to 18 months. It may take you a few days to get adjusted to them. Many patients have a slight lisp at first, but that goes away as you get used to them being in your mouth. You will also feel some pressure on your teeth, which indicates that they are working.
Someone from the dental team will call to check in from time to time to ensure that the aligners fit comfortably. If you are experiencing any pain, you need to call the office so we can schedule you to come in and we can look at what is happening.
Every couple of weeks, you'll switch to a new set of aligners. At the end of treatment, you may need additional refinement or more aligners to create your perfect smile. You will need to wear a retainer after treatment to keep your teeth from moving back to their original positions.
How long does Invisalign take?
Every patient is different, so there is no standard timeline for treatment. However, most patients see full results in less than 12 months. More severe cases may take up to 18 months. In many cases, patients start seeing significant results within 6 months.
Can Invisalign fix Overbite?
If your top teeth fall in front of your bottom teeth when your mouth is closed, you have an overbite. Invisalign is effective for treating mild to moderate overbites. The length of treatment is determined by the severity of your condition as well as your compliance. If your overbite is severe, traditional braces may be a better option.
Can Invisalign fix Underbite?
If your bottom teeth fall in front of your top teeth when your mouth is closed, you have an underbite. This could be due to genetics, or it could be due to childhood behaviors.
No matter what the cause of your underbite, Invisalign can effectively fix mild to moderate cases. In more severe cases, surgery may be required in addition to Invisalign. The average timeline for fixing an underbite is 12 to 18 months, with many patients seeing results within the first 2 weeks.
Can Invisalign fix Crossbite?
Invisalign can fix dental crossbites- but if your crossbite is due to skeletal irregularities or jaw issues, we recommend traditional or lingual braces. If the team at Clarksburg Dental believes that Invisalign will fix your crossbite, you should see results in about 12 months. It may take longer, depending on the severity of your crossbite and your compliance with wearing them.